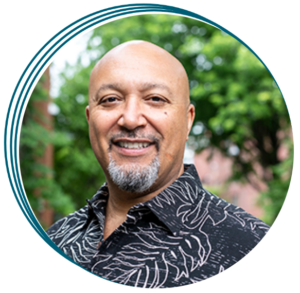 We're honored and excited to welcome EPIC2021 keynote speaker Jason Edward Lewis, Professor of Computation Arts at Concordia University, to our conference and community!
Lewis is a thinker and maker whose work on next-generation AI systems fuses the technical and creative, mechanical and philosophical, computational and cultural. This work illuminates core aspects of the EPIC2021 theme Anticipation—centering social and cultural practices at the heart of emerging technologies and expanding prevailing assumptions about where the future will come from. For Lewis, next-generation AI comes from Indigenous places: "Our aim is to articulate a multiplicity of Indigenous knowledge systems and technological practices that can and should be brought to bear on the 'question of AI.'"
In anticipation of a phenomenal keynote presentation, EPIC member Casiana Pascariu talked with Lewis about the trajectory of his life and work. We're grateful to them for sharing this story.
—Ed.
---
"I was the only brown person in my entire extended family," reflects Jason Edward Lewis.
His mother was Cherokee and his father Kanaka Maoli/Samoan, but when Lewis was six months old, he was adopted by a white family and raised in a white community in the Northern California mountains. His low-income family had limited resources; he lived in a tent for a year, and for a longer time with no indoor plumbing, electricity, phone, or television. Nobody in his family had gone to college. It was a happy childhood in the idyllic town of Downieville, CA, surrounded by national parks and rivers.
Lewis had no connection to his Indigenous identity while growing up, and did not give much thought to that part of himself. Though he could not help but be aware that no one around looked like him, his adoptive family and supportive community never made him feel that he did not belong. But this sense of belonging was about to take a turn.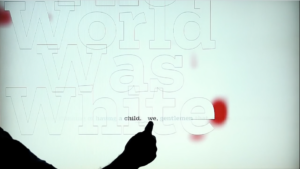 From "His Blood in Search of a Face (Solo Exhibition, Jason Edward Lewis)," documentation of solo exhibition mounted by DHC/ART at the PHI Centre, Montreal, May–June 2015. https://vimeo.com/138226748
An ambitious new principal at his high school, Ed Changus, was determined to send half of Lewis's class of 16 students to college. A teacher from the high school, Dee Williams, took him to visit Stanford and he fell in love with the campus. When he was later admitted to a number of top schools, that experience, combined with wanting to stay close to his single mom, meant that he headed to Palo Alto to start his post-secondary education.
"I was aware [of my Indigenous identity], but I knew nothing about it" until reaching Stanford, said Lewis, where the Stanford American Indian Organization "adopted" him. The larger university community, however, didn't feel so hospitable to his socio-economic background. For the first time, he felt alienated and unhappy. At the end of his sophomore year, he decided to quit.
But Lewis was intercepted by Jim Larimore, Assistant Dean of Students for the American Indian Program, who was deeply empathetic to Lewis's struggle. Larimore asked, "what can we do to keep you within the Stanford environment?"
The answer: Lewis arrived in Berlin that January to attend Stanford's satellite campus in West Germany. There he discovered a love for philosophy and the intricate game of constructing complex conceptual arguments. That first semester abroad was a life-changing experience, and he stayed, doing an internship with a local television company and subsequently a fellowship at the Freie Universität.
"My thinking and writing bloomed while there, as did my ability to engage with multiple realities: brown/white, country/urban, poor/wealthy, public/private education, etc."
With that international experience, Lewis returned to Stanford knowing exactly what he wanted to do. He completed two degrees, a BS in Symbolic Systems (Cognitive Science) and a BA in German Studies (Philosophy).
Most people think, "What can a degree in German philosophy and cognitive science have in common?" But Lewis found powerful synergies, and they earned him a Carnegie Foundation fellowship at the Institute for Research on Learning (IRL).
"Once again," he reflected, "as I was lucky throughout my career, my undergraduate advisor, artificial intelligence pioneer Terry Winograd, convinced IRL to take an undergrad student like me" in a program designed for PhD students.
The Institute was focused on an interdisciplinary approach bringing together anthropologists, sociologists, electrical engineers, designers, linguistics, computer scientists, and others with the goal of understanding how to make the internet and computing more accessible to people beyond tech industries. Each expert brought a different lens to computing and the question of how these machines can advance education in society at a large scale.
"We had weekly meetings analyzing a 5-minute video, and each of us would discuss what we saw in that video from the framework of our own discipline. My job was to create computational prototypes and design human-computer interfaces. While doing so, I was schooled by a diverse team of professionals in multiple, powerful methods for closely observing and interpreting human behavior with mechanical systems."
IRL was a predominantly white organization: Lewis's fellowship was designated for emerging minority researchers, and his counterparts were three African American PhD candidates. But he found IRL a healthy, creative, and engaging environment, and he did not experience the alienation he had originally felt at Stanford. And Lewis's expertise in philosophy and computer science made him unusual in Silicon Valley:
"There were not a lot of people like me who engaged with computation and philosophy. The question of interpretation—how the two of us can understand each other—is core to them both."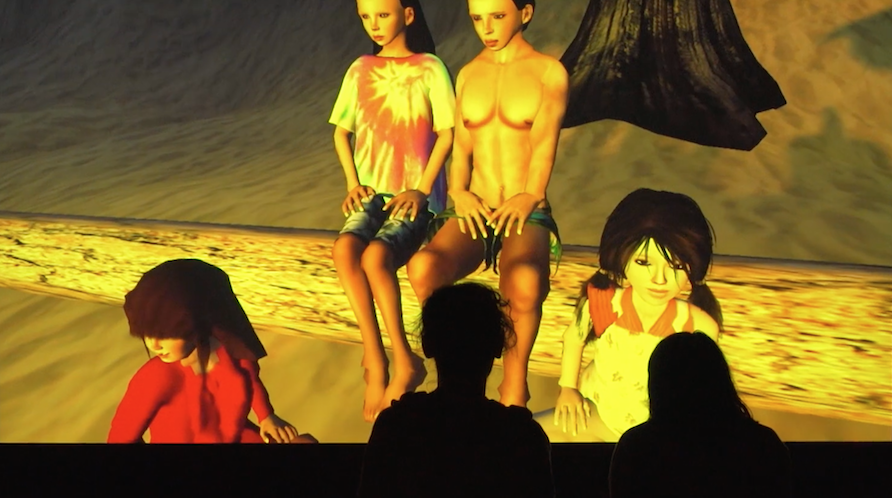 From "Owerà:ke Non Aié:nahne / Filling in the Blank Spaces," an AbTeC retrospective exhibition at Leonard & Bina Ellen Gallery, Concordia University, Montreal, 4 November–2 December, 2017. https://vimeo.com/264671182
The IRL fellowship also established a connection to qualitative research and ethnographers that has remained prominent throughout his career. At Interval, a Palo Alto research lab and technology incubator founded by ex-Xerox PARC researcher David Liddle and Microsoft co-founder Paul Allen, Lewis was hired by Human-Computer Interaction (HCI) pioneer Brenda Laurel to create a qualitative research tool to review, annotate, and compare data from recordings of hundreds of interviews with girls conducted in a project designed to understand play preferences. The experience deepened Lewis's understanding of how computational tools shape human behavior and the cultural practices that grow out of it, such as gender roles:
"A core weakness of engineering education is the assumption of one's ability to imagine what the experience will be for someone else. [A philosophical background] gave me a language to deconstruct human interaction to try to get at the assumptions that we use while building our technologies."
That was 1994. Today, in 2021, we are confronted with the ways algorithms can enact racism and exclusion.
Lewis' professional experience in Silicon Valley was diverse from an interdisciplinary perspective but not from a cultural one. Outside of the lab, though, his involvement with Indigenous communities grew. This is how he met his wife.
"Throughout the '90s, I had become a regular guest at the Banff Centre for the Arts, as an invited speaker and workshop leader at the New Media Institute and with the Aboriginal Arts program. There, I met the first wave of Canada-based Indigenous digital media artists, including Archer Pechawis, Melanie Printup-Hope, Ahasiw Maskegon-Iskwew, Cheryl L'Hrondelle, and Skawennati Fragnito."
Lewis and Skawennati (Mohawk) founded Aboriginal Territories in Cyberspace (AbTeC) in 2005. This research network focuses on the importance of Native people taking up residence in cyberspace with the goal "is to ensure Indigenous presence in the web pages, online environments, video games, and virtual worlds that comprise cyberspace."
"At that time, few Indigenous people were present in cyberspace, much less helping construct it. AbTeC undertook several projects to build capacity within the Indigenous community to work with digital technology, including offering the Skins Workshops on Aboriginal Storytelling and Experimental Digital Media to Indigenous youth and […] supporting numerous Indigenous creators who wanted to learn about digital media."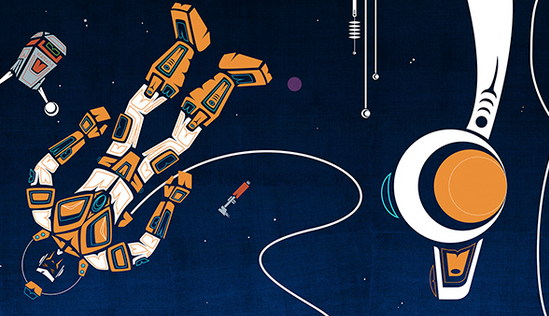 "Bold Steps" by Jeffrey Veregge, Illustration for the First Annual Symposium of the Initiative for Indigenous Futures.
AbTeC has been recognized for its important work, most significantly with a $2.5 million Social Sciences and Humanities Research Council's Partnership Grant (2014–2021) for the Initiative for Indigenous Futures (IIF) "to explore the cultural, conceptual, creative and technical dimensions of the 'future imaginary', encouraging young Aboriginal people to be fully empowered digital Natives with the confidence to craft a future of their choosing." Like all of Lewis's work; IIF focuses on ensuring that computing technology is built with and for people using it, and he believes that the research must have an ethnographic component to truly center Aboriginal people.
AbTeC and IIF laid the foundation for the Indigenous Futures Research Centre (IFRC) at Concordia, where Lewis is also a professor: "We are interested in narratives, theories, frameworks, and technologies that help us articulate a continuum between our histories, our present, the seventh generation, and beyond." His passion is to recruit, support, and empower young Indigenous artists, scholars, and technology-makers.
"The combination of my particular biography and the work I do leading AbTeC/IIF/IFRC means that when young Indigenous students—coming perhaps, like me, from rural communities, low-income backgrounds, and being the first in their extended family to consider higher education—when they come to me wondering why they chose college, feeling alone, and questioning whether they should keep going, I can provide them with support to stay, and make, and think, and dream of a better future for themselves, their families, and their communities."
---
Casiana Pascariu, MA is a cultural anthropologist with research interests in the Middle East, gender, and religious studies. She received her Master's degree in Anthropology from Washington State University, where she was trained in all four fields of Anthropology. She has been conducting ethnographic work on diverse topics across four continents, including Emirati women married to non-Emirati men, elderly Emirati nationals, Roma children in Romania, Saudi women in the United States, and the American University Greek system in the American universities. She is currently serving as a Residential Faculty in Anthropology at Mesa Community College in Arizona.