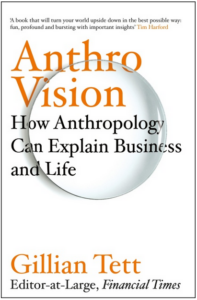 Anthro-Vision is a powerful argument for the predictive, strategic, practical, and moral value of understanding the world through a cultural lens. In her new book, Gillian Tett describes the framework that fuels her award-winning business journalism, including her prediction of the 2007/8 financial crisis. This cultural lens also drives the wealth of examples—many from the  EPIC community—that Tett uses to showcase ethnographic impact in business, politics, global health, and policy making.
In this conversation hosted by EPIC Board President Simon Roberts, Gillian Tett talks with Donna Flynn about:
The elements of Anthro-Vision—"a framework that enables you to see around corners, spot what is hidden in plain sight, gain empathy for others, and fresh insights on problems" (Tett)
How they build understanding and support for ethnographic work in executive management and public communication
Strategies for ethnographers to working collaboratively across disciplines
How strategic foresight is informed by ethnographic practice
The unique "ethnographic moments" created by economic, public health, and social change
Gillian Tett is the chair of the editorial board and editor-at-large, US, at the Financial Times. Perhaps best known for predicting the 2007–8 financial crisis, Tett's bestselling book Fool's Gold was one of the definitive books on the crash. Tett holds a PhD in social anthropology from the University of Cambridge, where she studied marriage rituals in Tajikistan. Her work for FT has taken her around the world—from Brussels to Tokyo to Moscow to New York—and won her numerous awards, including Columnist, Journalist and Business Journalist of the Year at the British Press Awards. In her book The Silo Effect, she turns an anthropological lens to the problem of institutional barriers and how to overcome them.
Donna Flynn is Vice President, Global Talent Management at Steelcase, where she leads efforts to attract, retain, develop and inspire Steelcase employees around the world. Previously she served as Vice President of Workspace Futures at Steelcase, where her team of researchers studied the future of work, workers and the workplace. The team's insights, developed by studying people, their habits and interactions, inform Steelcase culture principles and product development. Before joining Steelcase, Donna spent eight years as an experience strategist and research manager at Microsoft, where she held a number of user experience leadership roles in product groups focused on mobility, healthcare, and consumer strategy; and led client projects for Sapient, working with technology and telecommunications clients such as Cisco Systems, Sun Microsystems, and Sprint. Earlier in her career she worked on international development and microfinance with the International Center for Research on Women, the U.S. Agency for International Development, and the World Bank. Donna holds a PhD in Anthropology from Northwestern University. Read Donna's EPIC2018 keynote address "The Future is Yours" and her EPIC articles on ethnographic impact in product research, qualitative and quantitative approaches to segmentation, and the ethnographic center of her strategy as a business executive.
Simon Roberts is Co-founder and Partner at Stripe Partners and President of the EPIC Board. His twenty-year career as a business anthropologist has included founding the UK's first dedicated ethnographic research company, running an innovation lab at Intel, and being ethnographer-in-residence at technology think tank, iSociety. Simon's work has been covered by Bloomberg, Financial Times, Wall Street Journal, BBC Radio 4 and Quartz. His book on embodied knowledge, The Power of Not Thinking: How Our Bodies Learn and Why We Should Trust Them, was published by Bonnier in 2020. Simon holds a PhD in anthropology from the University of Edinburgh. Read Simon's EPIC articles on human and artificial intelligence, ethnography and embodied strategy, and the value of visceral knowledge.
---
RELATED
Anthro-Vision: A Book Review by Simon Roberts
The Future Is Yours by Donna Flynn
The Ethnographic Center of Strategy by Donna Flynn
Advice for an Anthropologist Breaking into Business, Shelly Habecker