Atlassian teams rely on a range of customer archetypes to empathize with customers, understand their problems, and design solutions that meet user needs.
But what happens to these artifacts over time?
Do they become anecdotal, fuzzy, weathered and smooth via repetition and distance from primary data? Do they merge with an organization's cultural fabric, taken for granted and beyond the scope of reflection? And how can we, as researchers, sketch out and maintain resilient yet flexible archetypes that hold their shape over time?
Members of our growing research team are reflecting on this challenge as we breathe new life into a long-standing trope of customer behavior, The Champion. Broader industry shifts, including the mass transition to cloud apps and changing priorities within our organization prompted our research team to reassess this archetype. Our experience suggests the power of a research community coming together to refresh our data and connect existing concepts to emerging business needs.
Through this process of renewal and reassessment we can proactively engage leadership and make strategic recommendations to take advantage of emerging opportunities. It's also hugely rewarding as a research organization to rally around a problem and solve it as a team.
Our journey started with The Champion
What do we mean by Champion? Glad you asked.
The Champion sounds like a typical UX or marketing persona. But that's not quite how we think about them. Champions, in general, map to a persona we call "Admin," to refer to users with administrative permissions in our products (primarily Jira, but others as well). There has never been a canonical representation of the Champion because back when our now 11,000+ person company was a start-up, and even up until a couple of years ago, champions weren't archetypes; they were (and still are) actual people who engaged with us directly. We hung out with them at Atlassian events, read their regular and occasionally spicy contributions to our community forums, and debated the feedback they left on our public issue tracker: Jira.Atlassian.Com (or JAC).
Over time, champions became more and more like a trope or archetype. The narrative went like this: The Champion was a technical expert, an autodidact learner with Macgyver-like abilities to get Jira and other Atlassian tools to work well for their teams. Champions built their careers on owning, optimizing, and protecting Atlassian tools within their companies. They were significant for us because back in the early days, Atlassian did not have a traditional sales or implementation team. Champions took on the task of implementing and configuring our tools.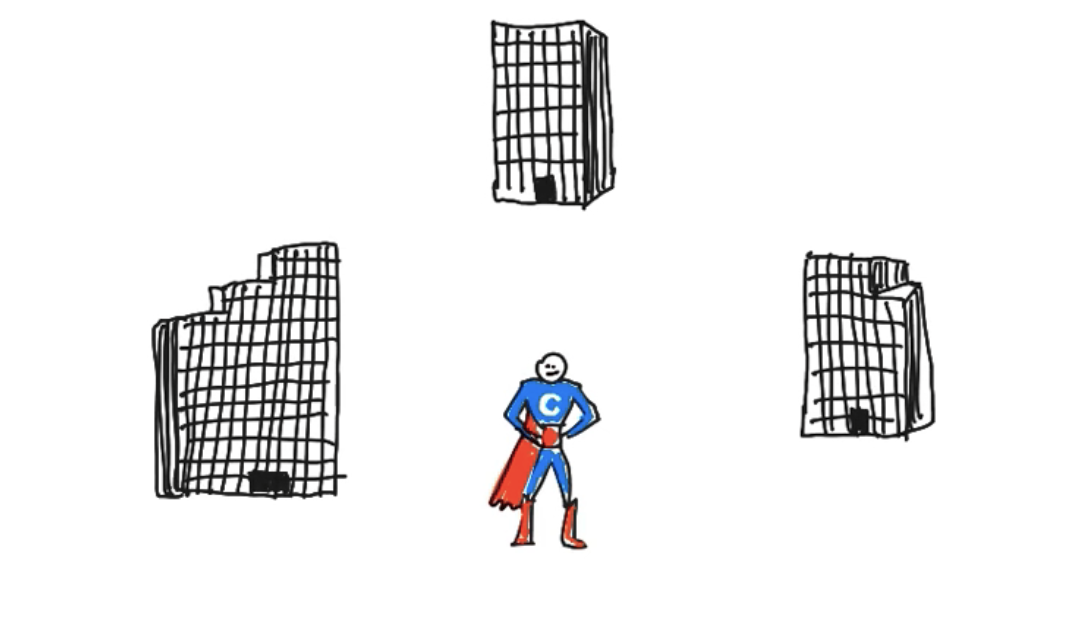 An early representation of The Champion helping enterprises get the most out of Atlassian tools
Enter the Savvy Operator
Regardless of whether customers used the cloud/SaaS or on-premises versions of our products, we knew that some struggled with configuration. Research had already established this by applying Gerry McGovern's Top Task methodology, where 'configuration' emerged as the top (or most important) task for users operating our tools in large organizations.
Parallel to the Top Task effort described above, our team ran a longitudinal diary study commencing in 2019 that aimed to understand what motivated some customers to migrate to our cloud tools. While Champions were not the focus of this effort, findings from the project indicated that within the broader pool of highly technical administrators, a smaller subset of admins confidently connected tooling to business outcomes. These admins were big-picture thinkers who established tools to scale efficiently with the needs of their teams and organization.
As a research team, we debated whether these admins were simply a subset of champions doing what they do best; evangelizing agile ways of working and helping teams get set up on Jira. But we also listened to signals that members of this subgroup differed from other configuration experts. Firstly, they aren't fans like other champions. While they understand the value of Jira, their objectives are tool agnostic. They advocate for process improvement and improving the health of their teams. Atlassian tools are just one option they might leverage to get the job done.
Keen to draw out the nuances that distinguish these users from other technical admins, we called them 'Savvy Operators', an epithet borrowed from a Y Combinator mailing list to denote their skills and orientations over a singular preference for Atlassian tools.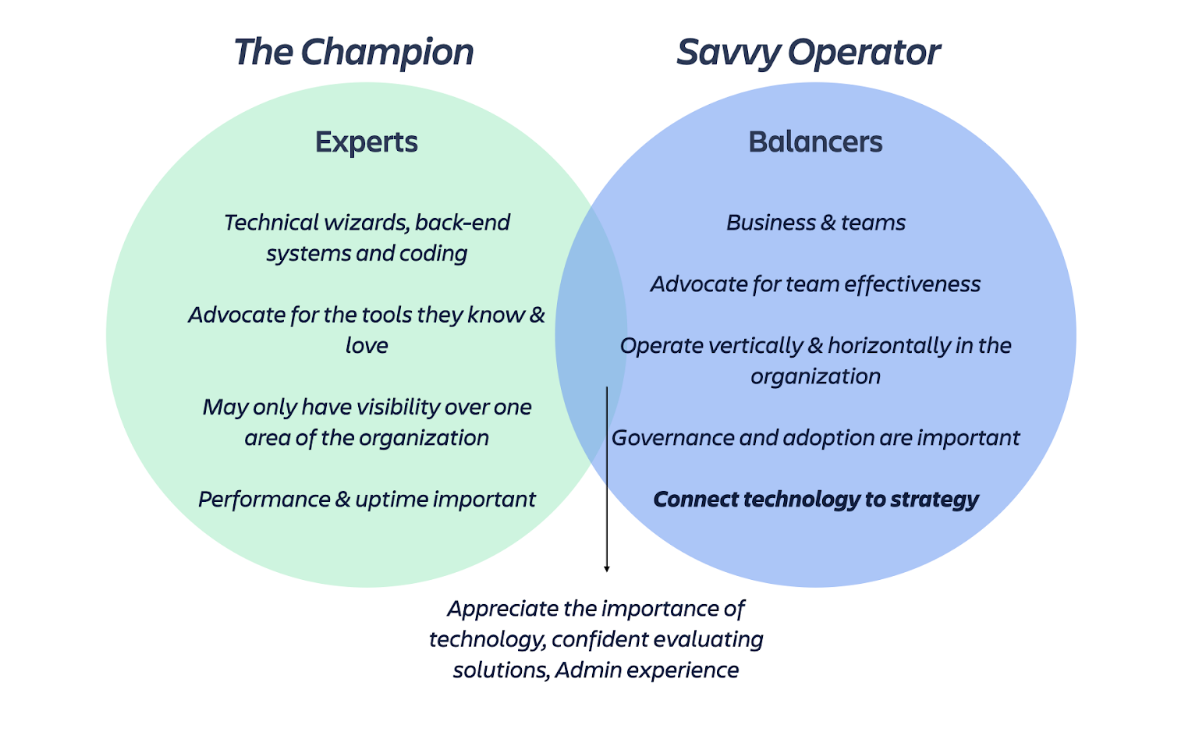 Mapping the attributes of The Champion when compared with the Savvy Operator
Mobilizing the multidisciplinary team
Our team adopted a multidisciplinary and mixed methods approach including adding targeted questions to our happiness tracking survey and completing ongoing qualitative interviews. Using our collective expertise and experience we stress tested the Savvy Operator concept, discovering its edges and finding new ways to frame, understand or evaluate it.
Drawing on foundational insights from the migration study, our quantitative and qualitative researchers worked together to draft and then test behavioral statements that would allow us to estimate the number of these users within our user base. At the same time, researchers focusing on the user needs of administrators came together to share learnings and provide input to the task statements.
As of today, researchers across our organization are continuing to explore the Savvy Operator archetype, defining approaches that will allow us to:
Measure their impact on their team's satisfaction with our tools.
Suggest their influence on business metrics such as retention and spend.
Devise machine learning models that will identify sites with Savvy Operators and track their impact on how product usage evolves.
Take what we've learned about Savvy Operators and Jira and test our hypotheses in other Atlassian products.
Help more users become 'savvy' with our tools through partnerships with content design and other crafts.
A working group has been established to incorporate our learnings into product roadmaps and support offerings.
Situating the changing archetype within broader industry shifts
In addition to rewriting the archetype, researchers also needed to help our stakeholders across the business make sense of the underlying forces driving this shift. We drew together a range of existing research on our key markets and the tech industry broadly and reached the following conclusions.
Business and technology leaders are being encouraged to replace on-premise applications with SaaS equivalents. The 'owners' of tools (our Champions of old) are becoming consumers of tooling services. Where once tooling experts created customized and bespoke experiences, today's priorities are scalability, self-service and low ongoing maintenance.
Tech and business need to be in lockstep. An entire genre of industry publications aimed at technology leaders advocates for greater alignment between tech and business objectives. Those who are interested could start with any of technology research firm Forrester's 1500 reports on the benefits of Business and IT Alignment to learn more.
As tech companies including Atlassian look to the cloud for our future and to provide the best experiences for our customers, we need to engage cloud-native tooling experts to increase the value customers get from our tools.
We're starting to investigate whether Savvy Operators are fundamentally different to Champions or a sub-type of this broader group. As a team, we continue to debate whether it is one or the other, but in any case we have established a foothold and grappling with the uncertainty has been productive in the following ways.
Creating a dialogue between past and present
When we talk about this group of users with the business, we assert continuity with champions, but raise critical differences. Calling out continuities provides a solid foundation from which to explore nuances and tap into emergent transformations. By building on what we had already learned, we assert a less drastic break and it's easier for teams and leadership to come on the journey with us. Taking this approach, we have slowly evolved the Champion of collective memory and anecdote into a credible behavioral archetype that is data driven and backed by a range of credible mixed methods research.
Our team's experience reevaluating the Champion concept suggests the value of asserting continuity while allowing for strategic breaks. Using evidence to reinterpret existing ideas in light of new data and perspectives breathes life and vitality into what we have already learned. By looking back, we refine and mature our hunches. By looking beyond the concept to the broader body of research the team has produced, we situate the change in context and call out what it means for us. This ongoing, team effort produces resilient archetypes that will evolve and endure.
We encourage researchers to make space to retain and to challenge existing knowledge, tropes and assumptions. Doing so ensures that when leaders want answers or strategic direction, we can confidently assert what still holds true while also explaining why people, markets or industries have transformed and what this means for us.
Atlassian is an EPIC2022 Sponsor. Sponsor support enables our unique annual conference program that is curated by independent committees and invites diverse, critical perspectives.