Overview
As the world has shifted to digital everything, the practice of mapmaking—or modeling and communicating spatial information—has seen profound shifts. Once artifacts-on-paper that we unfurled across our laps on road trips (and then couldn't quite fold back up), maps have become highly interactive "experiences" that support us with real-time information as we move. Building on mountains of data about physical and human worlds, today's maps can even incorporate knowledge about you, the "map user," into the calculus of what will appear on your personal image of your environment.
This talk explores how maps are constructed in a digital age and implications of these practices for…
How space and place are constructed
How we experience the world
Who owns spatial knowledge, and how that ownership is claimed
What UX research looks like at the limits of service design, touchpoints and journey maps
Presenter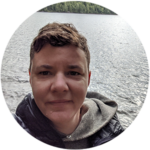 Lee Cesafsky is a UX Researcher on the mapping team at Lyft—a satisfying way to put a PhD in human geography to work in industry. They are co-author of the EPIC paper Calibrating Agency: Human-Autonomy Teaming and the Future of Work amid Highly Automated Systems.

Related Articles & Presentations:
Map Making: Mobilizing Local Knowledge and Fostering Collaboration
Doing Ethnography in Airspace: The Promise and Danger of 'Frictionless' Global Research
What Is a Product? How a New Definition Is Leading Us Toward a Place-Based Design Process
The Perfect UberPOOL: A Case Study on Tradeoffs
Watch more talks and tutorials on demand: