Overview
Human-centered design has driven a two decade renaissance in product development, providing a transparent framework that exposes rationale, demystifies process, and provides more reliable outcomes than many other approaches to innovation. The cycle of empathy, ideation, and prototyping that the best designers have long practiced has been repurposed for problems well beyond the traditional boundaries of design problems—from corporate strategy, to policy making and even international development.
But in the increasingly complex, interdependent socio-technological environment we are called to design for, the limitations of human-centered process are becoming apparent. A focus on the individual "user," their "problems," and "needs" is no longer sufficient for software-driven products that operate at a societal scale.
This talk reviews a variety of perspectives on this topic, provides a framework for understanding multiple levels of product impact, and covers some initial methods we can employ to work with empathy—not just for the "user," but for every participant in the system we seek to change.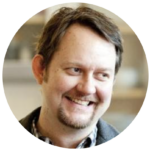 John Payne is Head of Service Design at Verizon. He leads design and innovation of seamless service experiences across all channels and touchpoints for the one in three Americans who use Verizon's services. A Co-Founder of Moment, and a thought leader in the human-centered interaction design community for 20 years, John has co-chaired and curated two international conferences—EPIC2012 and IxDA's Interaction 17—and taught graduate-level design research and methodology courses at Parsons and NYU. He sits on the Board of Directors for Public Policy Lab, a non-profit service design consultancy who design public services for low-income and disadvantaged Americans.
Read John's articles:
What's So Funny 'Bout Peace, Love and (Empathic) Understanding
From Experience Models to Immersion Tools: Transferring Ethnographic Knowledge In An Agile World